Main content start
Winter Break Reading Sessions
Winter Break Reading Sessions
10February2022

Anna Smirnova
Sciences, Year 1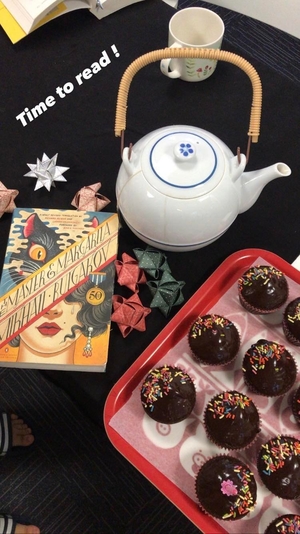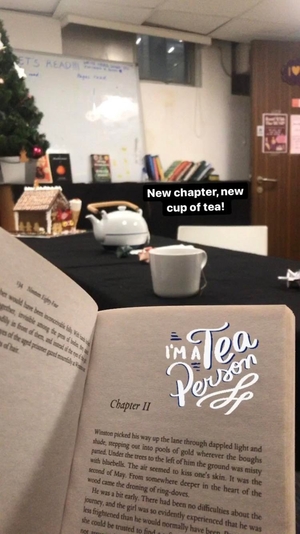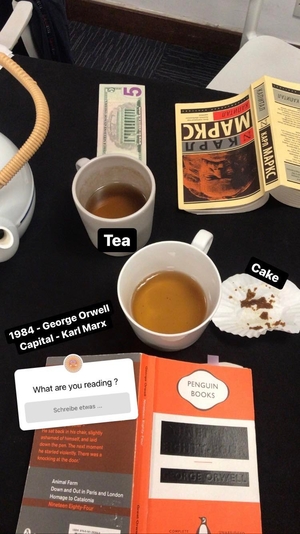 Images from MCSU's Instagram stories throughout their reading week
I vividly recall the first book I ever read – Carlo Collodi's novel, Pinokio. I received it as a gift from my grandmother with pages that grew yellow over time, notes written with a black gel pen in the corner by someone else, and countless coffee stains. I will never forget the magical feeling that I got having opened this book – it had been through so many generations before it found me, and I could literally feel its history as I held the book in my hands and smelled its old sheets.
Over the winter break, the MCSU organized open reading sessions for Morningside students in the Tuck shop, and I didn't hesitate to join. It was delightful to have real quality time with other book lovers exploring new stories together. Back in my country Russia, reading is considered quite old-fashioned – libraries are slowly suspending their work, while people's interests are gradually shifting to watching more content on the internet. However, personally I always enjoyed books, and so it was truly amazing to see so many like-minded students coming too – seeing that they are really passionate about it, staying up late just to finish another chapter. It was a nice opportunity to rest after finals and distract ourselves from thinking about grades.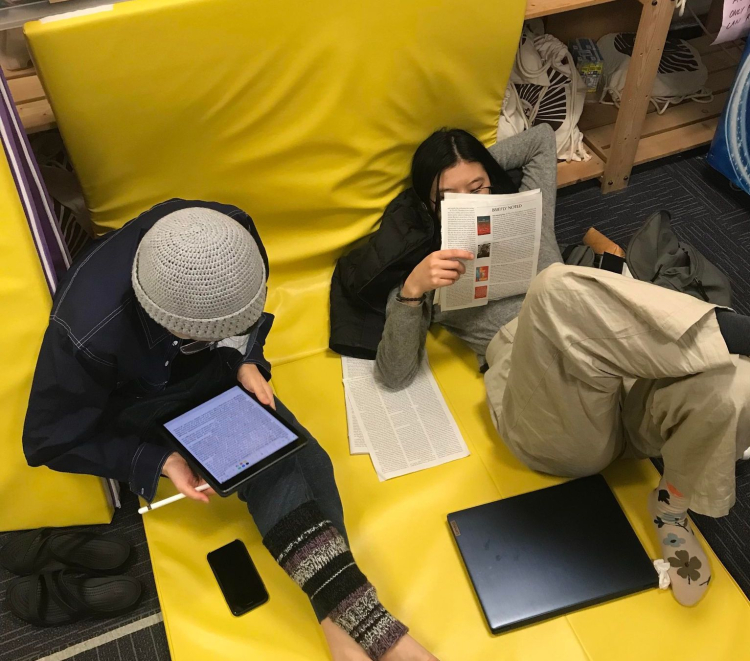 Students relaxing in the Tuck Shop
I would like to say a big thanks to the Morningside tutors and professors who shared their preferred readings with us – Juliet (The Seven Husbands of Evelyn Hugo), Nora (Blindness), Mel (The Membranes), Professor Huss (Interpreter of Maladies), Lalla (The Final Review of Opal and Nev), and Professor Rawlins (Catch-22). Not only did this event help us find relevant and compelling stories, but it also helped us get to know our amazing community better. I have personally finished a couple of stories from the book suggested by Professor Huss – "The Third and Final Continent" and "This Blessed House" – and I can say with no doubt that this book is worth having a look at, especially for those who like warm narratives about daily life.
"The Third and Final Continent" tells the story of an ordinary Indian man, who has recently married a woman arranged by his family, moved to the US and is struggling to find inner peace adjusting to his new circumstances. However, this story also conveys a deeper meaning, showing not just the immigrant experience of Bengali men, but of immigrants worldwide. It warmed my heart and made me smile – being burdened by responsibilities, we often forget what is taking place around us and do not notice some simple everyday situations. However, they are what gives us the feeling of being alive and can turn out to be a useful tool for drawing conclusions that make us better people. The most ordinary events look magically attractive in the story. Written in a very straightforward manner, this first-person narrative really appealed to me from the beginning, since it resembles my own experience of living in a new and completely different country in some ways.
Overall, I believe these days spent in the Tuck shop were filled with positivity, and I think it would be very gratifying to see reading sessions like this organized more often.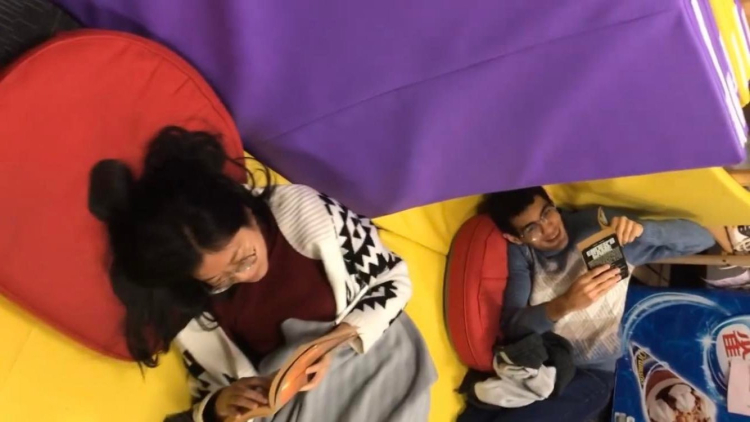 Students enjoying their books!
Back